Home
-> Translation -> Proofreading
Proofreading
The business world has its rules. The most important one is: mistakes damage the company reputation. Fortunately, you may freely afford some mistakes, as you have IHP Expert at your service. We are fast, precise and flexible. We make corrections and proofread not just German texts, but also texts in Croatian, Bosnian and Serbian. All you have to do is send us a text. We will do the rest.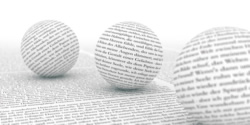 Proofreading always includes the correction of mistakes, which means the removal of grammatical and spelling errors and typos. In addition, it also includes polishing up the style and content and perfecting sentence constructions (syntax). Redundant words and frequently repeated words are taken out or replaced by synonyms; never-ending and convoluted sentences are rephrased in a way that makes them easy to read and understand. We pay special attention to a logical and well-structured formation of the sentence, and clear and comprehensible wording. In addition, of course, we respect your personal style of writing. Furthermore, the content of your text is also checked. From a proofreader's point of view, the text is edited and supplemented while its cohesion is checked and improved.
Our services:
correction of typographical errors
proofreading
expert revision
Would you like to see whether you like the way we proofread texts? We will be happy to offer you a test proofreading - free of charge. Just send us an A4 page of the text you want to be proofread; we will send you back the proofread text with a note informing you how long it took to correct i.e. proofread the text.
Languages:
Albanian
Bosnian
Croatian
English
German
Italian
Macedonian
Montenegrin
Russian
Slovenian
Serbian
Ukrainian