Home
-> Translation -> Interpreting
Interpreting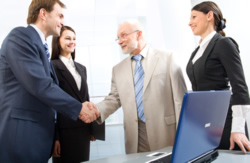 Whenever you wish to offer to your foreign guests and yourself the convenience of your mother tongue, we will be happy to provide you with interpreting services in Croatian, Bosnian, Serbian and German languages. We are able to convey to listeners not just the content of speech, but also the stylistic and rethoric nuances.
We are happy to advise you in the selection of the most appropriate type of interpretation for your needs. We can provide interpreting services at short notice.
We will be glad to interpret for you:
business meetings, for example, consultations, media and telephone conversations, client-lawyer meetings, conclusion of commercial and other kinds of agreements and contracts etc. This kind of interpreting is mainly suitable for diplomatic, business and political meetings.
as interpreters accompanying you in all activities under the jurisdiction of public institutions, in meetings with lawyers and notaries public, in the field of social welfare and health, during expert guidance, sight-seeing; interpreting for your guests. The interpreter in the community has to be a trustworthy person with a good knowledge of human character and negotiating skills who can conduct a constructive discussion with other people.
as consecutive interpreters, i.e. interpreting statements, lectures and other kinds of speeches - in intervals of five to fifteen minutes, or sentence by sentence during discussions; interpreting at press conferences, receptions and events, meetings of state representatives, businessmen and other prominent persons from social life; at marriage ceremonies and other public events. This type of interpreting is especially suitable for the events with a limited number of participants, where the interpreter has to interpret into one language only.
as simultaneous interpreters in a booth, at conferences, congresses, meetings of businessmen and other events that you may organise. This kind of interpreting is especially used in situations where two or more languages are used at the same time. At least two conference interpreters for one language work together in a booth.
Languages:
Albanian
Bosnian
Croatian
English
German
Italian
Macedonian
Montenegrin
Russian
Slovenian
Serbian
Ukrainian